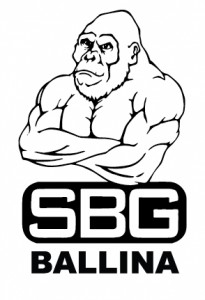 SBG Ballina was founded by Stephen Geddes in 2014 and officially opened by John Kavanagh February 14th 2014.
Our goal at SBG Ballina is to inspire, motivate and empower individuals to aim for the best in what they are doing. You will experience a non-judgemental, encouraging environment with guidance and support from our professional coaches.
Being a part of SBG Ballina is more than just joining a martial arts club. We are not just a logo. Behind the logo is a community of like-minded individuals who encourage and push each other to be the best possible version of themselves. Our bond is one of shared Philosophy and loyalty, and unites us all.
SBG Ballina is part of a larger global community of Straight Blast Gym International. With over 50 locations in the world, SBG can be found on every continent (except Antartica).  It has produced multiple UFC fighters (including the biggest UFC Champion in history, Conor McGregor) – multiple BJJ world champions, including black belt medalists – and currently stands as the world's leading organization for functional martial arts, combat sports, law enforcement, military hand-to-hand, and self-defense.
SBG – 'One Tribe, One Vibe