Trek to the base camp of the worlds highest mountain, Mount Everest. Our program promises the trip of a lifetime as you trek through some of the most beautiful valleys and mountain regions of the Himalayan Mountains.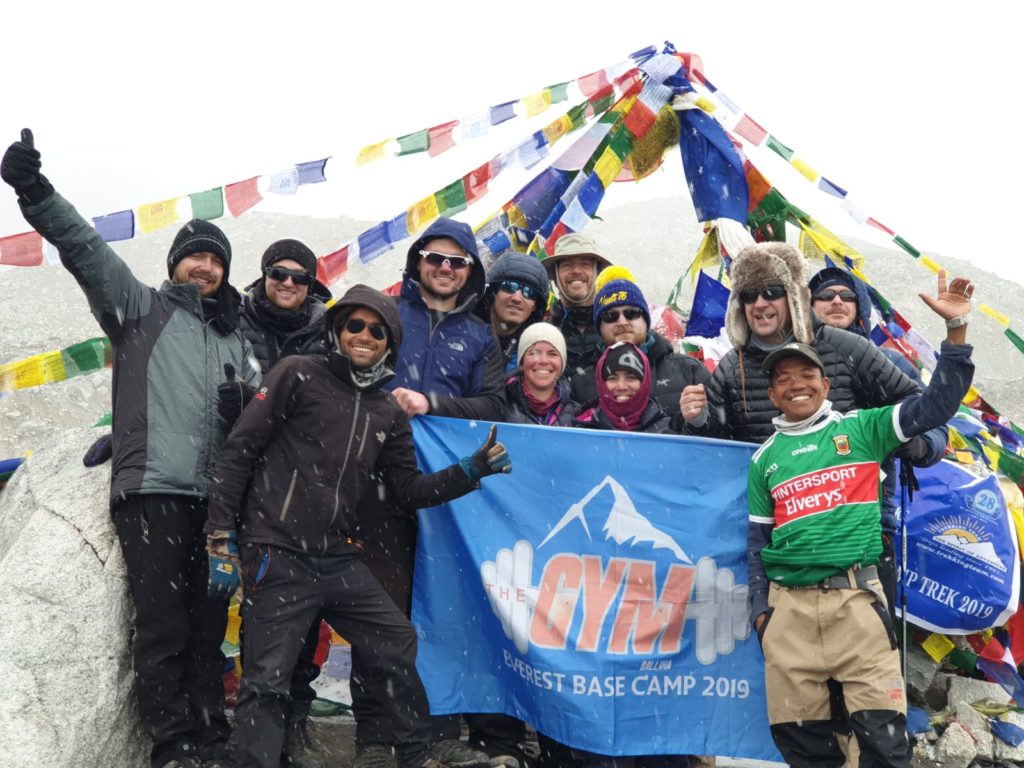 Program Details:
Day 01: Arrival in Kathmandu (1,350m/4,428ft)
Upon Your Arrival at Kathmandu International Airport, you will be greeted by a representative and transported to your hotel located in central Thamel.  Later in the evening you will be given a program briefing and meet the rest of your team members.   
Day 02: Fly to Lukla, trek to Phakding (2,651m/8,700ft): 40min flight; 8km, 3/4 hrs trek
About 40 minutes of mountain flight will take you to Lukla the gateway of Everest region trekking in Nepal. In clear weather the scenes that you see from your plane window is mesmerizing too but during bad weather the journey can be bumpy ride as well. We will meet our rest of the crew members in Lukla and head out to Phakding after brief tea break.
Day 03: Phakding to Namche Bazaar (3,438m/11,280 ft): 11km, 5 – 6 hours
We will trek relatively easy trail until we reach Larpchen Bridge at foothill of Namche Bazaar. We have to cross numerous suspension bridges and have to trek past villages like Benkar, Manjo etc. Near Manjo our permits will be checked and we enter the Sagarmatha National Park. During this day's trekking trekkers can see Thamserku and Kusum Kangaru clearly. Moreover after 1.5 hours of uphill walking from Larpchen Bridge in clear weather you can have first view of Mount Everest as well. The sight of clustered Namche Bazaar can relieve your tiredness of walking.
Day 04: Acclimatization Day – Namche Bazaar: (3,440m/11,284ft)
We can tour Namche Bazaar which is the primary town of the Everest or Khumbu region and has government offices, ATMs, internet cafes, shops, restaurants, and a colorful market. We can hike-up to Sagarmatha National Park and enjoy the sunrise over the Himalayas including Mt. Everest, Lhotse, Nuptse, Ama Dablam, Thamserku, Kongde and so on. If we are interested in a day hike, we can trek to Khumjung village. Today we also visit the Hillary School and a monastery which houses a yeti scalp! Overnight in Namche Bazaar.
Day 05: Namche Bazaar to Tengboche (3,870m/12,694ft): 10km, 5- 6 hours
Everest will be at far distant and you will crave to reach there on this day. Green lush forests on either side of trail and horde of Jokpyo/Yaks carrying goods are usual sight. The journey consists of flat, downhill and uphill walking. Get blessed by sight of Khumbu Valley from top of Tengboche on either side including gigantic Mt. Amadablam looming at backdrop. Take a walk around monastery in evening before chilling out at dining hall of tea house.
Day 06: Tengboche to Dingboche (4,360 m/14,300 ft): 9km, 5 – 6 hours
Our trail descends and passes through lush forests of birch, confer and rhododendron trees. While trekking we can admire good views of Mt. Everest, Lhotse, and Ama Dablam. We walk downhill to Debuche and cross the Imja River to reach Pangboche. We choose the upper Pangboche trail and admire the Himalayan vista and the Pangboche Monastery. We continue our walk to the Imja Valley and Lobuche River before ascending to Dingboche. It is a picturesque village with beautiful barley, potato and buckwheat fields complete with grazing animals dotted along those fields.
Day 07: Dingboche: Acclimatization
Spending a day in Dingboche will help us to acclimate to the high altitude. Instead of staying idle, we climb a ridge located behind the village and see six of the world's tallest peaks including Lhotse, Makalu and Cho Oyu. Furthermore, we can also admire Cholatse and Taboche peaks. On our north-west we see more Himalayan peaks rising above the Khumbu Khola Valley. Among those peaks, Lobuche West, Lobuche East and Lhotse are the most dominant. From another location on the ridge we can also admire the picturesque Imja Khola Valley and the beautiful Dingboche village. Overnight at Dingboche.
Day 08: Dingbouche to Lobuche (4940 m/16,207 ft): 4km, 2 – 4 hours
We ascend all the way up to Lobuche on this day with some occasional rough flat trail. Grassy meadows and bushes are only vegetation that you can see on this day. The most memorable portion of this day's trekking would be the Everest Memorial in Thukla Pass and sight of Pumori, Lobuche, Cholatse and other mountains. Lobuche is small tranquil village on bank of river facing the Kong Ma La Pass.
Day 09: Lobuche to Gorak Shep (5170 m/16,961ft), visit Everest Base Camp (5364 m/17,594 ft): 13km, 6-7 hours
The trek to Everest Base Camp is not very difficult. However, we ascend and descend mostly on a glacier path. There is also a lot of meandering on rough terrains. As we reach the base camp, we enjoy the incredible melt patterns and admire the gently rounded ice towers on the upper part of the Khumbu glacier. The Everest Base Camp is stunningly beautiful. We can enjoy amazing views of Nuptse, Khumbuste and Pumori mountains from the base camp. After soaking in the beauty, we walk back towards Gorak Shep where we spend the night.
Day 10: Gorak Shep to Kala Patthar (5,545m/18,192ft) to Pherice (4,288m/14,070ft): 16km, 7-8 hours
We wake up early for the walk up to Kala Patthar. It is dark outside with cold temperature and most likely chilly winds. We walk on a fairly steep trail at a comfortable pace. As we are climbing up the hill we can see Lingtren, Khumbutse, and Changtse mountains. The view from the summit is outstanding. We can see the world's tallest mountain Everest along other mighty Himalayan peaks. After spending some time at the summit of Kala Patthar, we walk back to Gorak Shep which is relatively easier than hiking up to Kala Pathhar.
Day 11: Pheriche to Namche Bazaar (3,440m/11,280 ft): 20km, 6 – 7 hours
We lose approximately 2,000 feet in elevation today and walk on a trail with a lot of ups and downs. We descend through a hillside filled with rhododendron and juniper trees and cross a bridge over the Dudh Koshi River. We descend rapidly through pine forest where we can easily spot mountains goats, pheasants and other wild animals and birds common to the area. The path eventually reaches Sansa from where we can enjoy views of Ama Dablam, Thamserku and Nuptse mountains. We walk on winding trails followed by another walk through a forest before reaching Namche Bazaar.
Day 12: Namche Bazaar to Lukla (2,860m/9,186ft): 19km, 6 – 7 hours
The most joyous day of our trekking is this day. With memory of Everest journey in mind we jovially trek downhill and through Manjo & Phakding to reach Lukla. Evening can be fun filled with celebrations among crew members and trekking partners. Relish Nepalese delicacies or drinks and enjoy the last evening in Khumbu region of Nepal.
Day 13: Fly back to Kathmandu
We catch an early morning flight to Kathmandu after our long mountain journey. After reaching Kathmandu, we can take a rest or do some souvenir shopping. If we want to explore any other areas of Kathmandu, we may do that today. Our guides can help you with both souvenir shopping or sightseeing. There will be a farewell dinner in the evening to celebrate the successful completion of our journey.
Day 14: Free day in Kathmandu/ Reserved Day
On this day, you can proceed to relax and can have another tour of the city or go shopping at the hub of "all things-tourist" at Thamel.  Since the Lukla Flight always depends on Weather, so that if there will be any delayed and flight cancellation on flight of Domestic, we can cover with today.
Day 15: Final departure
Our adventure in Nepal ends today. A representative will drop us off at the Tribhuwan International Airport a few hours before the scheduled flight. Please note that you have to be at Airport before 3 hours of Flight time.
Expedition Costs:
For more Info contact Steve at 096-24900