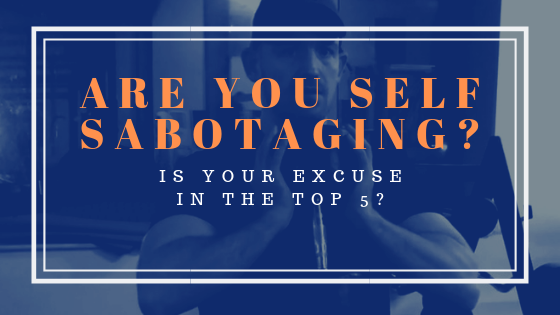 "ARE YOU SELF SABOTAGING?" Is your excuse in the Top 5?
This post may contain affiliate links. I receive a small commission if you click on a product link and purchase the item.
AVERAGE READING TIME: 4 minutes, 32 seconds.
 "Excuses are like ass-holes, we all have them and they all stink"
Why can't I SEE RESULTS?
If you have read that quote and it has cited an emotional response from you, there is a good chance this particular blog is aimed at you. Ask yourself, with an open mind…Are you self-sabotaging?
Of course, there are some genuine reasons out there for why somebody would cancel their PT session, not show up to a class, skip the gym. Just remember, one session can lead to two, three, four etc. The compound effect!!If you haven't read it, I highly recommend you do!!